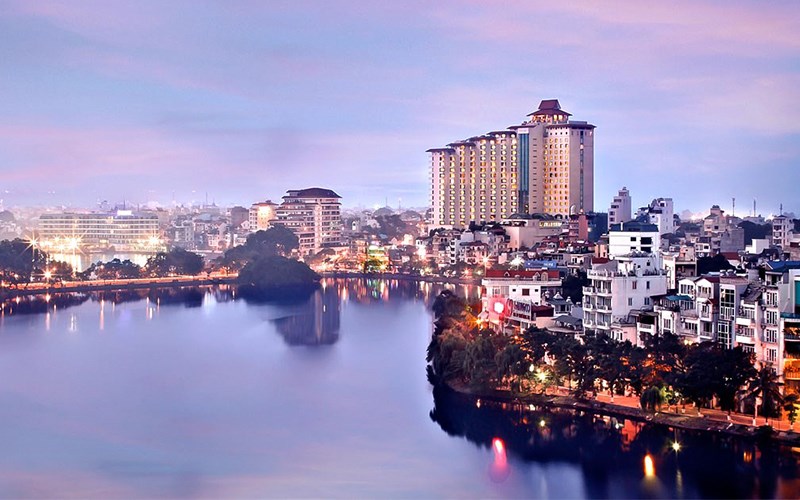 12 Oct

Which areas do most foreigners often choose apartments to rent in Hanoi

Recently, Hanoi – Vietnam's charming capital city has become a popular destination among foreigners from every corner of the world. You will find it a significantly developing city with various shopping malls, skyscrapers, hotels and colonial architecture hub with low cost of living at the same time. It is famous for picturesque scenery, vibrant night life, fantastic food and friendly citizens that note in expats' heart and eventually make them stay here longer. Expat families coming here are likely to choose areas coved by furnished apartments, firm security and close amenities to settle in such as Ba Dinh District, My Dinh District, Tay Ho District, etc. Let's go through some neighborhoods where you can find crowed expat community in Hanoi.

1. Tay Ho

Tay Ho a.k.a West Lake area is a golden pearl of the city with a large number of foreigners from different nationalities. It is a best choice for people who want a contemporary comfort around the largest natural lake in a noisy city. Quang An, Xuan Dieu, Dang Thai Mai, To Ngoc Van are streets inhabited by a lot of foreign renters because almost every apartment takes advantage of gorgeous lake overlook. It takes only 5 to 10 minutes from here to reach the Old Quarter or other central districts. Even within the area, you can find all amenities: from entertainment (like restaurants, bars, cafes, water parks), shopping (convenient stores, boutiques) to health care (clinics, fitness centers) and work (international schools, hotels, office buildings).

2. Ba Dinh

Some others find Ba Dinh District is an attractive place to live in. It is not only a political metropolis with most of embassies, national assembly and governmental offices but also a tourist attraction with typical city's historical locations like Ho Chi Minh Mausoleum, the Old Citadel and Temple of Literature. That's why the streets in the North of district are not as crowded as in the Old Quarter. However, there are many apartments for rent around Kim Ma Street favored by Japanese and Korean people. It's not hard to capture office buildings, high-end hotels and entertainment points in surrounding area which are ideal for expats.

3. My Dinh

Although other national residents can be seen here, My Dinh is considered as a hub of Korean in Hanoi. There are 2 typical places for Korean communities: Keangnam Hanoi Landmark Tower and the Manor. The two 50-storey apartment buildings in Keangnam complex are located next to Landmark Tower 72- the highest building in Hanoi consists rented office, serviced apartments and International Landmark Hotel. The tower is a well-known luxury complex equipped with fitness center, outdoor swimming pool and shopping center. Meanwhile the Manor- just opposite to Keangnam- is a new urban area comprises of residential buildings, villas, condos and a wide ranges of amenities: office buildings, schools, shops, shopping malls, tennis courts, etc. The international standardized infrastructure and European concept design bring about high-end experience for foreigners staying here.

4. Long Bien

Moving to the East of Red River, in Long Bien District, Vinhomes Riverside is a new high-end urban area modelled as little Venice. Even though it is located in the suburb of Hanoi, the project is only 6.5km far from Hoan Kiem Lake, which takes only 15 minutes to access to the city center via modern highways. Vinhomes Riverside is ideal for people prefer natural space. While maintaining romantic designed villas, luxury apartment buildings, multi-functional complexes (shopping mall, restaurant, high school and kindergarten), it still covered by large ecological space with clean canal, green gardens, shady trees and outdoor recreations. Residents in the area are able to enjoy high-end standard of living but rich natural and romantic living space at the same time.

5. Ciputra

Nam Thang Long Ciputra urban area located in Bac Tu Liem District and Tay Ho District is known for various international schools and ecosystems. The expat families with children will find this area very attractive because it has high-ranking education at all levels from kindergarten to university such as Sunshine House, Hanoi Academy, UNIS University, Singapore International School. Besides, a green and peaceful environment far away from the hustle city is also an element makes it worth living. Landscape is full with green color of lake, greenery, flower garden and trees that help people leave behind stress whenever coming their sweet home.

When I first moved to Hanoi, i needed an apartment to rent, i type "Hanoi Housing" into Google and a handful of reputable sites will come up. I used Alpha Housing to find my apartment by advanced search tool…etc, then order to a viewing tour with no brokerage!